LionClock Premium with
Web Interface and support for Mobile Devices
This page is referring to a new edition of LionClock that is not yet available
Currently LionClock allows employees to clock IN and OUT from computers running Windows. Since 2001, more than 9800 companies in North America have been using our software on stand-alone Windows computers as well as on their networked computers running Windows.

We realize that such an approach isnít good enough for companies with mobile employees who arenít always in the office. To address numerous requests we have received from LionClock users, we are actively working on adding more access options that would allow employees to clock no matter where they are:

using a web interface that looks exactly like our Windows software but can be used via any Internet browser. That means that any computer that has a web browser will become a LionClock station. That includes users running other operating systems such as MacOS or Linux.






using any smartphone or cell phone that has Internet access. After installing LionClock Premium with Web Interface in your office, you will have a special web address (a URL, a link) that you will distribute to all your employees. They would then be able to access that address using a web browser of their phone. They will see a familiar LionClock interface on their screen allowing them to clock IN or OUT.
Here is a prototype of our upcoming Web Interface: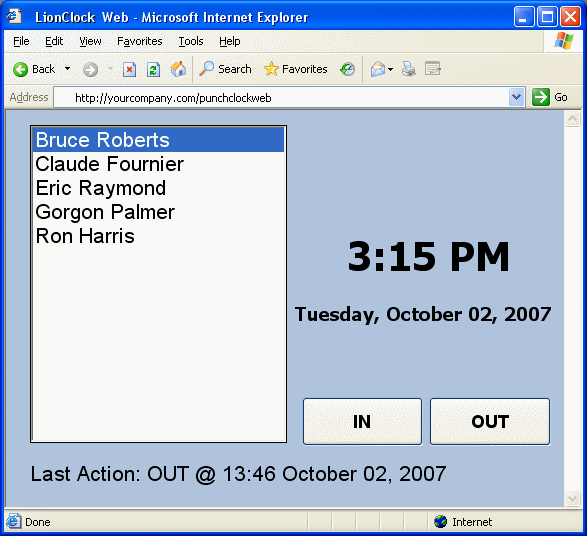 Web Interface functionality will be part of LionClock Premium, a more advanced version of our existing LionClock Pro for Networks (the Server part of it). To use Web Interface you would need to install LionClock Server Premium on a Windows 2000/2003/XP/Vista/Win7 computer on your network. This computer must be connected to the Internet if you want your employees to clock from outside of your office or store.
LionClock Premium features a convenient Web Interface that allows employees to clock in from any computer or mobile device that has a web browser. That includes Mac OS computers, Linux computers, PDAs such as Windows Phone, RIM Blackberry, iPhone, Android-based phones and even web enabled cell phones.